home
Guided fishing trips in Hungary tailored to unique needs with local expertise
Fishing trips from 1/2-1 days for pike, asp, zander and carp
We are fishing on Lake Balaton, the largest lake in Central Europe, located in the Transdanubian region of Hungary about 1-1,5 hours driving from Budapest. You can fish with us on private lakes offering great opportunities for fishing almost all year round.
fishing
Fishing in Hungary is exceptional
Our beautiful waters provide various fishing adventures for you almost all year round. Look for carps near the reeds in clear, flat water with rolling vine-lands in the background. Fish for asps on fly or lure when they are chasing baitfish schools near the surface. Spend hot summer days with spinfishing for zander on the turquoise Balaton. Fight with pikes and enjoy the strike until our lakes are frozen in the winter.
Just enjoy the environment even as wading through our favorite waters, kayak fishing in hidden spots or fishing from a stiff boat and take a sip of the best local wines, taste the smoked sausage with fresh bread.
Take a deep breath of fresh air
Catch fish and smile
guiding
"Be cool, stay safe, catch fish and smile."
These are the keywords for my guiding service. Fishing trips are always tailored to your unique needs, with local expertise. I have the knowledge of waters and fishing spots and we can use GPS and fishfinder onboard. So don't waste your time searching, just hire a guide who is in the know. We fish all year round, both summer and winter stop only when waters are frozen.
Services for you
1/2 day (4 hours) guiding for 1-2 people
1 day (8 hours) guiding for 1-2 people
If you are planning a longer fishing trip or you are in a larger group, just contact me, we will find the best solution for you.
Food & Drink
A lunch with handmade local specialties, cold refreshments on sunny days or hot coffee/tea in the chill mornings embraced with our traditional hospitality will make you feel home on our waters. If you have any dietary needs, please let me know.
Gear
You can use your own rod&reel, but of course I will have everything you need. Do not forget proper clothing for the weather.
Boat
I have driving license for motorboat and sailing boat, so we can use kayak or boat or even we can rent a sailer if you need it.
Fishing-permits
If you need it, I will purchase the Hungarian state fishing license and the local fishing permits for you before our trip.
Photos
Bring your camera! You will need it. If not for the lunkers than for the landscape. Certainly, I will have my camera with me to capture your day for you, so you can concentrate on fishing.
Transport
I will pick you up and get you home, if needed.
Safety
You can swim, so it is not a problem. If not, you can trust our life-jackets and pray. Talking seriously as an EFFA certified fly fishing guide I have learnt the necessary techniques for water rescue, first aid, CPR, "reach-throw-row-go", etc and we are using a stiff kayak or boat, equipped with life-jackets and other life-saver equipment. The best safety device is our eyes and mouth, therefore if you notice anything, do not hesitate to raise the alarm.
contact
Contact me and let's go fishing together!
Interested in fishing together?
I am here to answer the questions you may have about fishing in Hungary. I'll respond as soon as I can.
about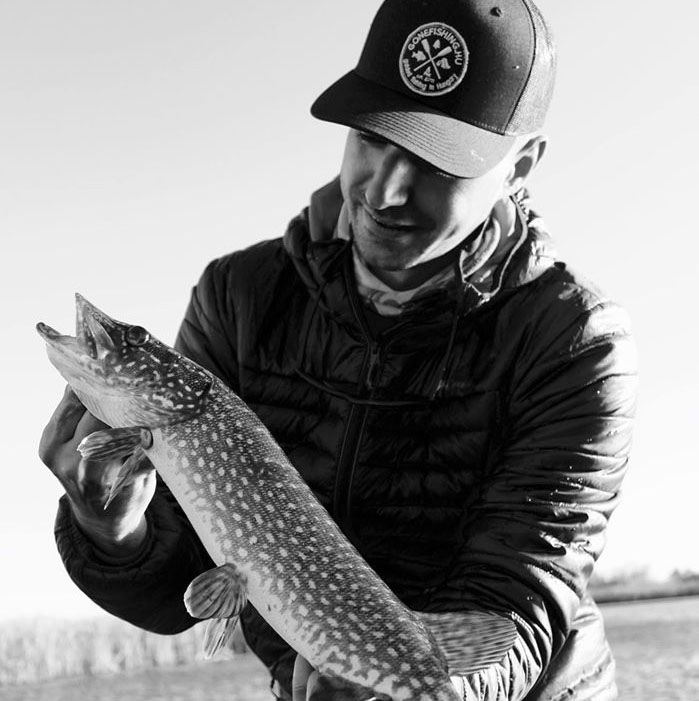 My name is Gergely Kapocsi. I know it is a bit difficult, so just call me "Kapor".
I fell in love with fishing when I was a little boy and learnt a lot about nature, waters and fish from my Father. I've always liked the unique outdoor activities: bowhunting, fly-fishing and kayak fishing are my ways to connect with mother nature. Sharing the experience of exploring new waters and bringing people closer to nature is why I started my fishing guide service in 2015.
In July 2015 I became an EFFA certified fly fishing guide and since 2016 I am a member of Jackson Kayak Fishing Regional Team. Finding new fishing spots, getting to know new people and tasting local beers even in our backyard or thousand miles away is always an interesting adventure. I would like to introduce our beautiful waters to you. Contact me and let's go fishing together!
conservation
Catch & Release
All fish are caught and released alive with the least stress possible. This will guarantee that fish stocks will stay healthy and our waters can ensure the best fishing possibilities.
Keep It Local
Seeing the importance of supporting local people and economy we try to use as much as possible from local products and services. Local business is the backbone of the local economy and supporting them directly supports the community around us.
Fish Warden
Volunteering as a fish warden at a small trout stream I try to help protecting this hidden treasure for our grandchildren and introduce people to the importance of our attitude to nature and environment.